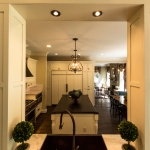 "What's the best time of year to remodel my home?" We get asked this a lot and our answer remains the same: Any time is the right time – as long as you're ready to do it. Some seasons – especially in the mid-atlantic area – offer more cost savings and contractor availability than others as well.
Remodeling January through early March
Regardless whether you are looking to do a project inside your home or out; this is actually considered the best time to start a project. Even if you're only in the planning stage, this is a great time to get a jump on everyone else who is looking to do the same because generally speaking, more help is available. The winter months tend to be less busy for builders, because everyone is either still getting over their holiday expenditures or waiting for spring and tax refunds to start their projects. Builders, remodeler's and many specialty contractors are looking to schedule work and often at reduced rates. Also, just like fast-food restaurants in January; many suppliers including home stores offer big discounts on materials and hardware this time of year to make up for less demand. Those savvy enough to take advantage of this time of year can be enjoying their finished projects while everyone else's is just getting underway. And often for less!
Remodeling April through June
Spring is traditionally home building season, not only because consumers are finding the money to do projects, but also because it's the time we start to come out of winter hibernation and want something new. This is also the busiest time for most builders, so it's probably when you'll pay the most money for their time and for materials. It's the simple law of supply and demand.
However this is also a great time to get moving on that larger project you've been putting off that requires more planning and scheduling – if you would like it completed before the end of summer. Builders and remodeler's book up quick and tend to stay booked through spring and summer. Miss their window and you might be doing that kitchen or basement build out through the holidays rather the summer months.
Remodeling July through September
Tackling indoor work like a kitchen or bathroom remodel is recommended during the warmer spring and summer months. The last thing you want to do in the sweltering heat is an attic bedroom! To most people's surprise, however, roofing projects are often done in the summer, because the roofing material needs certain higher temperatures to seal. Also contrary to what many might think; this tends to be your last chance to get booked for that kitchen, basement or bathroom remodel if you want it completed before the relatives show up for the holidays
Another perk to getting your project planned early so as to be installed over the summer; If you vacation in summer or have a summer home, it's great to plan your remodeling effort for when you and your family will be away. You can avoid all the unpleasant inconveniences of living with a renovation and come back to a brand new addition!
Remodeling October through December
While the first part of this quarter is ideal for outdoor work and new construction starts, it is traditionally the time when homeowners want their remodeling finished. The impending holidays are a looming deadline for builders, and there's a scramble to get things done by mid-November. If the custom cabinets, appliances or components you want won't be delivered for 8,10 – even 12 weeks; you don't want to start your project in the middle of October if you expect them installed by Thanksgiving!
But if you're willing to have crews in your home during the holiday season, this is a good time to schedule anything from an addition to remodeling a kitchen. Business is slower for contractors and materials tend to be less expensive. However, shipping may take longer due to weather or holidays shutdowns, so be sure to work those extra days into your timeframe!